Many future home-owners start with a vision about what their home should be, and often that wish list
includes a highly-efficient new living space. People want homes that are well-insulated to keep heating costs down, environmentally friendly, and much more.
ERCO Homes is licensed by the Government of Canada as a certified ENERGY STAR® , R-2000 and EnerGuide builder.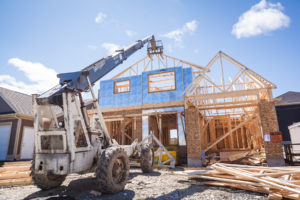 An ENERGY STAR® qualified new home is 20 percent
more energy efficient, on average, than a home built to minimum National Building Code standards.
Some of the valuable features included in an energy efficient home are:
Efficient heating and cooling systems that use less energy, reduce indoor humidity and improve the overall comfort of your home.
High-performance ENERGY STAR windows, patio doors, and skylights keep the heat in during the winter and out during the summer.
Walls and ceilings insulated beyond what is required by the building code.
A variety of ENERGY STAR products which use less electricity by meeting strict technical specifications.
A heat or energy recovery ventilation system (HRV or ERV) ensures your home has controlled ventilation
Your new ENERGY STAR home will be awarded an ENERGY STAR label approved by the Government of Canada (affixed to your electrical panel) and also issued a government certificate.
We can also build you an R-2000 home. What's the difference? Both ENERGY STAR and R-2000 new homes offer a number of energy saving features to provide maximum energy efficiency. R-2000 homes, in addition to the features listed above, provide even higher efficiency levels and include clean air and environmental features that make them some of the most energy-efficient homes on the market today.
Ask us today about which choice is right for you. We'd love the opportunity to discuss the potential energy savings for your home.

What is ENERGY STAR?

ENERGY STAR is an internationally recognized brand and a trusted symbol for identifying energy-efficient products like kitchen appliances, televisions but it is also applied to new homes.
In little more than a decade, the blue ENERGY STAR symbol has become a consumer icon in Canada and has come to represent the standard of premium energy efficiency in many product categories.
Since 2005, energy-efficient new homes can also be ENERGY STAR qualified. Its guiding star is well known and trusted by Canadians as the highest mark of energy efficiency performance. Ask us about how your home can have an Energy Star!

What is an R-2000 home?

R-2000 is the summary of many factors, but simply put, an R-2000 house is a better home. R-2000-certified new homes are best-in-class energy-efficient homes that include high levels of insulation, clean air features and measures to help protect the environment. This translates into energy savings, increased comfort, and a healthier environment for the homeowner and their family. Every R-2000 home is built to the stringent R-2000 Standards developed by Natural Resources Canada (NRCan) in coordination with key industry stakeholders and these standards are upgraded as technology changes.
ERCO is proud of its team and their ability to meet and exceed R-2000 standards.

What is EnerGuide?

An EnerGuide rating shows a standard measure of a home's energy performance. It shows homeowners (and future buyers) exactly how energy efficient their home is.
The rating is calculated based on standard operation assumptions, providing the ability to compare one home against another.
The home's energy efficiency level is rated on a scale of 0 to 100. A rating of 0 represents a home with major air leakage, no insulation and high energy consumption.
A rating of 100 represents a house that is airtight, well insulated, sufficiently ventilated and requires no purchased energy on an annual basis.